Pickett X Fears Watches Event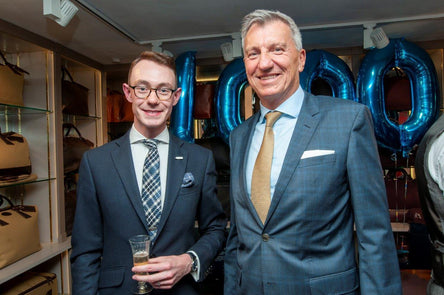 Rolex UK managing director pops in to help Fears celebrate 1000 days since its resurrection
Fears Watches was brought back to life in 2016  by Nicholas Bowman-Scargill, the great, great, great grandson of Edwin Fear who first founded the company in 1846. It operated for 120 years before closing down in the late 1960s.
This week the company celebrated its first 1,000 days back in business with a gathering at the store of Pickett, a high end leather goods and accessories firm in central London.
"It's incredible to think it's been 1,000 days since I welcomed people onto the Fears stand at SalonQP in 2016. Though Fears is one of Britain's oldest watch companies, having been founded in 1846, I believe it's important to mark this milestone in the company's re-establishment.
"From the beginning with a single Redcliff watch it's been an incredible two and a half years steering the re-establishment of Fears and growing the company to where it is today. I'm pleased to mark this occasion in our 173-year history with the launch of the Redcliff Streamline which is directly influenced by our Archive and is linked to a previous milestone – the centenary in 1946," Mr Bowman-Scargill says.
Among the guests were Richard de Leyser, managing director of Rolex UK and Don Cochrane, owner of Vertex, another historic British watch brand that, like Fears, was brought back to life in 2016.
See the full article on WatchPro.