The London Magazine Featuring Pickett Umbrellas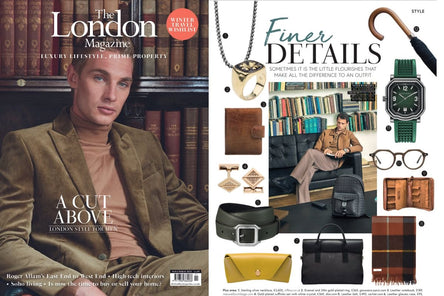 Our handmade Malacca handle umbrella has been featured in the London Magazine, adding a touch of brightness to your grey day.
Handmade in England, our umbrellas feature a variety of wooden handles, including Malacca, chestnut, polished hardwood, and whangee. These handles are made from wood grown specifically for this purpose, ensuring the product's integrity and longevity from the very beginning.

Our umbrellas have been wind-tested and can withstand speeds of up to 27mph. Additionally, we offer customised options, so you can have your own unique design. Choose your perfect umbrella handle today!


Shop our Men's and Women's umbrellas. 
Pickett Men's Metal Shaft Malacca Handle Umbrella
Men's Metal Shaft Malacca Handle Umbrella
Handmade in England
High density polyester fabric cover
Black canopy
Solid wooden handle
Wind tested up to speeds of 27mph
Measurements Approx: 36" long with canopy opening approx. 43" diameter
We offer a comprehensive after sales service
Bespoke option available (personalisation)
Next day delivery available
* Each wooden handle is unique and they may differ from the photographed image.