Essence Magazine - Proud to be Brittish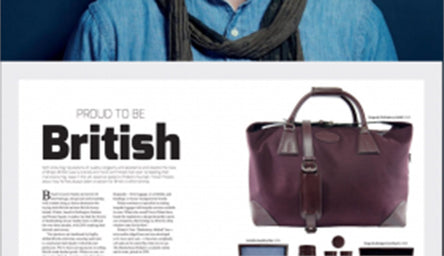 With enduring reputations of quality, longevity and excellence and despite the risks of Brexit, British luxury brands are more committed than ever to keep their manufacturing base in the UK. Essence spoke to Pickett founder Trevor Pickett, about how he has always been a bastian for British craftsmanship.
Britain's luxury brands are known for their heritage, design and craftsmanship, with London being a choice destination for buying both British and non-British luxury brands. Pickett, based in Burlington Gardens and Sloane Square. London, has had the fortuity of handmaking luxury leather items in Britain for over three decades, with 2018 marking their thirtieth anniversary.
'Our products are handmade by highly-skilled British craftsmen, ensuring each item is constructed individually with pride and perfection. We've built our reputation on selling British made leather goods/ Where we can, we always buy British, sourcing our leathers, from merchants across the British Isles, we choose exclusive new colours to ass to our wide range of vibrant and traditional colours.'
'Today, we are faced with diminished markets there are less manufacturing units and only the best have survived, so although it's a smaller source, we know the quality is high.'
The perfect sports car companion
This year, luxury leather brand Pickett celebrates its 30th anniversary with a new Burgundy Collection, celebrating the most popular colour of the 80s. The collection has translated almost every traditional products in the Pickett line into Burgundy – from luggage, to umbrellas and handbags to luxury backgammon boards.
Pickett continues to specialises in making bespoke luggage with bespoke services available in store. Where else would Trevor Pickett have found the inspiration to design the perfect sports car companion, then looking our from this shop windows onto Savile Row?
Pickett's New 'Shaftesbury Holdall' has a removables ridged base and was developed to fit most sport cars – it becomes completely soft and cant be stored flat when not in use. The Shaftesbury Holdall is available online and in store, priced at £550.